If you have been following this blog for the past 19 months, you've meet 8 of my 12 family members.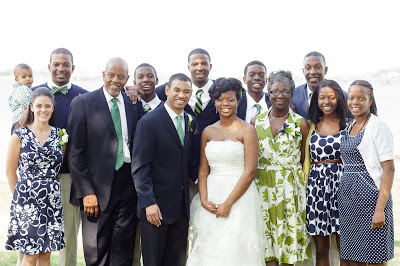 My Family Fantastic
You've met my husband, dad, 4 of my 5 brothers, 1 of 2 sisters, and both my cute nephews. You have not read about my mom (Elizabeth), youngest sister (Shannel), or my fourth brother (Manny).
Let's start with Elizabeth, because she is a model mother. My mother (a former Paris runway model) has lead quite an interesting life. She was chosen as one of a handful of students to integrate her school in 1964.  She then went on to become the first black homecoming queen of her university. Post-college Elizabeth went on to conquer the fashion world in Paris, Milan, and New York City.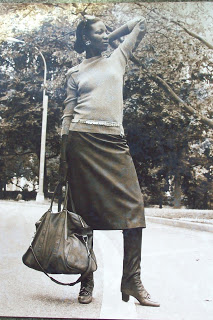 Elizabeth in NYC Circa 1978
But then my dad (ever the salesman) convinced my mom to marry him and move down south. Elizabeth had  plans to be a fashion buyer for one of the local department stores, but then I arrived.
And, before I knew it…I had seven siblings and my family seemed quite strange in comparison to others.
Elizabeth home schooled most of us. Opted to have home births administered by midwives. Grew a lot of our food in the back yard. Eliminated the use of microwaves as a health precaution, and didn't allow us to watch TV during the week. Looking back I can see that the tough decisions my mother made, shaped me and my siblings for the better. But, the strangeness of my family did not go unnoticed by our relatives.
As a result, most of our holidays were spent with just our clan. But, there is an upside to being isolated from extended family…me, my siblings, and my parents are a close-knit bunch.
I am especially close to my mother. Even though, I am married and live 700 miles away…we talk almost everyday. Whenever I go home for an extended period of time, my mother always finds time in her schedule to make my two favorite meals: spaghetti and fried fish. Because my mother is generous, kind, and enthusiastic. In fact, I can always tell when one of my siblings had a particularly challenging athletic event the evening before. Because she always sounds like an eighty-year old chain smoker when she loses her voice the day after.

Sometimes, however, my mother's enthusiasm can get the best of her. I often tell her haste makes waste. Cut once measure twice. But, I think at this point she is just used to having 9 people depend on her. So, whenever she can get ahead of the game she aims to do so.

One such opportunity reared its head at Thanksgiving a few years ago, before I married Morris.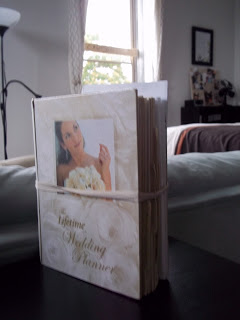 The Lifetime Wedding Planner
Thanksgiving is HUGE in my house, and it is the holiday that everyone tries to make it home for. We had all gathered around the table and were preparing to say the blessing, when my mother announced that she had a gift for me. My little sister ran to get the gift bag and handed it to me with a beaming smile.

The lovely gift bag held a beautiful book that my mother purchased on sale…The Lifetime Wedding Planner. It was complete with budgets, bows, envelopes and everything one needs to plan the perfect wedding. One minor problem. I wasn't even dating anyone…and haven't for several years. My five brothers erupted in laughter. And I, I wanted to crawl under a rock.Boy, did she get ahead of the game.
But, that book turned out to be quite handy when Morris and I got married last year.
I guess that's what makes Elizabeth a model mother, because she thinks ahead and plans for what will be…not what is.