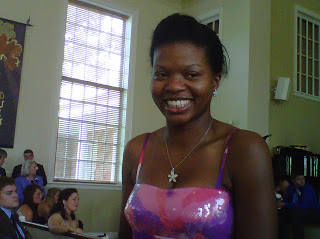 The wedding took place almost two weeks ago now. And, I have been thinking…how am I going to end this blog? Its kinda sad to sit here and think about it. I mean 28 plus days went by REALLY fast and I feel like I've grown closer to you, God, and even myself. Writing helped me to organize my thoughts, admit what I was feeling, and seek your help and advice. But, alas I knew it wouldn't go on for forever.
So, as I bring this blog to a close a new phase is opening.
As many of you know, I've been wanting to write for a loooong time. But, I never had the courage, subject matter, or discipline to do it. I was inspired to sit down and write by The Intervention and a really special guy. Now, that I am beginning this writing journey I don't want to quit.
You see, long-term I want to be a writer and a mother. I think being a writer will give me the flexibility to be at home with my brewd and still contribute to the household. Additionally, I think it would allow me the flexibility to travel etc.
A dear friend and one of my running buddies suggested that I enter the Life Lessons Essay contest. The deadline is September 24th and I am going to give it a shot. But, I will need your help dear ones. So, please continue to send me your kind thoughts, wisdom, and kicks in the butt when I need them:-)
So, for right now the rest is still unwritten.
Love, Simone