About this identity thing…
I opened up my email a few weeks ago and my heart skipped a beat. A response. From an editor at one of those big New York City Publishing houses. I'd been waiting 83 loooong days to hear from this editor, she'd already told me I was a good writer…so I was pretty certain all my writing dreams were about to come true. I had it all planned out.
Literary agents would be blowing up my phone trying to represent me. My book would debut as a New York Times Bestseller, I'd buy my darling husband that black Tesla we'd seen in the mall, and then whisk my family away for an all expense paid vacation to Fiji.
And therein lies the problem…I'd placed my hope, trust, and identity as a writer in acceptance from that publisher.
Why Identity is So Important?
In her book, Fervent, Priscilla Shirer explains that the oppressor works double-time to magnify our insecurities and diminish our strengths. He likes to keep us focused on our inadequacies, rather than what God has called and equipped us to do. Our enemy wants to cripple us by self-doubt, because how we see ourselves affects how we approach life. 
But "fervent prayer keeps your true identity in focus." Our identity should be rooted and anchored in who we are in Christ. Not on:
worldly standards of success

 accomplishments

degrees

relationships status

or climbing up the corporate ladder.
Although, this is not the first time we've discussed identity.  I've come to some new conclusion over the past six months.  There are 3 things I MUST do to keep my identity in check.  So here we go…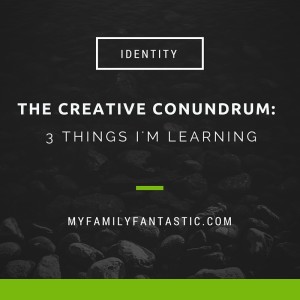 1. Remember My Identity in Christ, Daily 
If I see myself based on the standards society has meted out for me, I could plunge into the depths of eternal depression. Because I can never live up to that standard of beauty, success, or relevance.
But if I put on the amour of God and daily remind myself  of who God says I am. Now that's a different story. The Good Book says we are:
Accepted
Chosen
Forgiven
Redeemed
Beloved
Blessed
and Sealed with that Holy Spirit of Promise
And Paul says all that in Ephesians 1!
Here's a PDF that lists 23 more things the Good Book says about identity. (I recommend printing that out and placing it on your bathroom mirror as a daily reminder.)
Paul tells us with fervor to take hold of who we are and then switches to interceding on our behalf (v. 18). So that we will not be overtaken by the seeds of self-doubt that the enemy  tries to plant.
2. Drop Competition
Comparing yourself to others is the death knell of confidence. And the oppressor uses competition to keep us never feeling up to par. Don't focus on what others are doing.
Focus on who God has perfectly crafted you to be and to do. You are not an orphan. You have a Heavenly Father that wants to protect, provide, and guide you every step of the way.
3. Examine Your Inputs 
Examine your inputs…and their amount.
Every day you are receiving thousands of messages about who you are "supposed to be." If the majority of your inputs—a pitchers worth— are coming from movies, media, and the world…that is a sure-fire recipe for disaster. And your mind will be filled with doubt about your identity in Christ.
We should all work to ensure the messages of God's Truth far outweigh the messages of the oppressor. 
A Special Note for Moms  
I was talking with my mom the other day and got all upset.
Because the enemy was planting seeds of doubt about her worth and impact on the planet. (If you've ever met my mom, you know EXACTLY why I was indignant. Her picture belongs right beside Proverbs 31.)
But it reminded me.
If you are a mom, it is very unlikely that you have a fan club. No one is going to congratulate you when your little one uses the potty for the first time, or when your son takes out the trash on his own accord.
These are wins. 
And God sees you and knows every seed you've sown into the life of your child. Being a mom is the hardest job in the world, but it's also the most under appreciated.
Your assignment is Divine and in "due season you will reap a harvest." Because you are raising arrows that will be shot out into the world and will impact the culture in which we live. I am praying for you.
A Special Note for Creatives
The Creative Conundrum is particularly complicated. Because there isn't an adequate metric of success on whether or not our work matters.
That requires us to be especially attuned to the Spirit of God and relying on Him as the source of our worth. I'm praying for you and me both! 
About That New York Publisher
As you've probably guessed, the book did not get picked up by that highfalutin Publisher. But the editor was REALLY sweet. And I am learning —slowly but surely—to embrace the lessons He wants to teach me along this path to publishing.
Question: What are you learning about your identity? What else do I need to know? 
ps: If you're new here, let's keep in touch! Subscribe here. 
Love, Simone