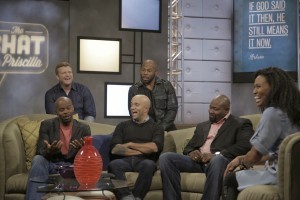 Did you know that the phrase "can we talk" is a conversation killer for most men? Or that the best way to talk to your fella is while you are doing something else?
Those are a couple of the relationship tips I learned from watching the video "What Men Wish Women Knew." There were soooo many nuggets of wisdom from the fellas.
And I found myself talking to the screen as if I was in church. I kept dropping phrases like:  "talk about it!", "hmm", and "say it!"
Here's the link to the show: The Chat. For some odd reason, I can't embed the video here. Sowwy:-(. The video is 29 minutes and some change. But just in case you don't have time to watch the entire video. I've watched it and included time stamps for each topic. So, you can fast forward if needed.
Relationship Tips from The Fellas
What False Assumptions Do Women Make About Men? (3:20)
Why Don't Men Talk? (4:45)
How Do We Get Our Men to Open Up? (5:50)
The Ultimate Conversation Killer (6:30)
What Do You Find Unattractive in Women? (7:25)
How Should a Woman Let a Guy Know She's Interested? (8:30)
What's Up with Christian Men? (9:45)
What Top 3 Things Make a Man Want to Put a Ring on It? (15:45)
What Matters Most: Spiritual Strength or Physical Attraction? (18:15)
Why Do Men Like the Chase? (19:50)
How Do You Keep the Mystery in Marriage? (21:45)
How Do You Get Your Man to Connect? (24:30)
My Takeaways
My top three takeaways all centered around ways to improve communication.
The phrase "Can We Talk?" is a conversation killer.
The best way to connect is to do something he likes to do.
And the best time to talk is while engaging in some sort of activity.
So, I'm going to make an effort to meet Morris on his turf more. I think that means I'll be going to more baseball games and watching more sci-fi.
What was your key takeaway? And is there anything you will do differently?