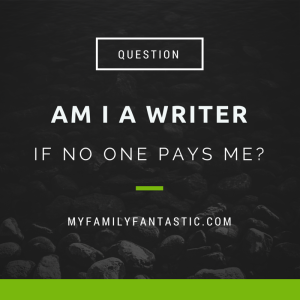 The past week was pretty crummy. It started last Friday when I got a check and a letter in the mail. I was happy to receive the check. But not so happy to receive the letter. The letter said something along these lines "Dear Simone: We really like your writing, but we can no longer afford to pay you."
Dang.
Just when I was getting comfortable telling people that I'm a writer. A real one. It feels like the rug is getting pulled up from under me.
The second boot dropped when I realized that the magazine I'm writing for is probably not going to pay me for my work. (I know this because I reached out to two of the other writers and we are all in the same boat. And combined the magazine owes us thousands of dollars.)
But more than the loss of money, what I'm really struggling with is the loss of identity. Am I still a writer if no one pays me to write?
A Brief Identity Crisis
I've shared before how leaving my job last year was tough, because I could no longer tell people that "I'm an energy analyst," get the nod of their approval, and feel important.
Now, I'm in that place again. I wanted to toss my thoughts on this blog, because in talking with several of you it feels like many of us are struggling with the question of "Who Am I?" and "What Am I Doing With My Life?"
The answer has nothing to do with our jobs, marital status, or other arbitrary titles people pin on us. And going through this situation taught me a few things. First, lots of people share my struggle. Second, if we don't learn our lesson the first time. We have to go through it again. Third, I let the bad overshadow the good.
Lots of People Struggle with Identity
In struggling to identify myself this week, I started googling stuff. Initially, I was looking for sermons on my identity in Christ. But, what I found was an article in The Atlantic about the uptick in tattooing in recent years.
The story explains one of the reasons that tattooing has risen to new heights is that people are looking for something permanent and real to self-identify themselves. So it's not just you and me….lots of people struggle with identity.
How Could I Be SO Stupid?
The second lesson, I've learned…is how the feeling of being cheated makes me feel about myself. Perhaps, you've been there before. All you can think about is: how could this happen to me? I should have been smarter! I should have KNOWN.
This lesson is a re-run for me, because I was in a similar situation about nine years ago. I lent a guy I was dating $500 dollars (a small fortune for a graduate student) and in an instant everything changed.
• He stopped returning my phone calls.
• He stopped coming to church.
• And, I realized he had no intention of paying me back.
I was crushed by the loss of my smartness. (I know that's not a real word, but that's how I felt.) I called my dad, told him what happened, and decided to let it go. My dad said something wise about forgiveness and that I should have checked with him first.
But I didn't want to hear all of that! I just wanted my money back, and I wanted to erase the sense of stupidity that seemed to be permeating my every thought.
And, now with the magazine…it feels like I'm back at the same place again. Even though, they didn't take my money… they owe me money. They've taken part of what I think I am: a smart, confident, woman that can conquer the world.
Bad Sometimes Overshadows Good
The third lesson I learned is that: when bad things happen, I let them consume me. For the past eight days, most of my thoughts have been flooded with my writing woes.
The thing is that some really good things have happened too, and I should be mature enough to focusing on those things. For example:
• I received a lovely note card from 3 of my former co-workers (Joe, Amery, and Byron)
• A new writer friend, Quanie, sent a super nice email & offered to help, when I need it.
• My sister's prom was last night and I got to be here to see her.
• My Morris has been supportive through this entire process (and I've been a grouch).
• And, one of my mentors asked me to co-teach a college class.
But all I can think about is the money that's owed me. And I think that's a plot of the devil to let the bad overshadow the good.
No Longer Plotting Revenge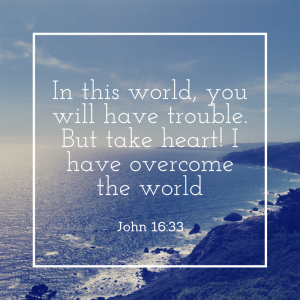 I've decided to stop plotting my revenge on the magazine and give this situation over to the Good Lord. (Which of itself is a huge victory. Because I had come up with all kind of genius ways to get even. Like, texting Bible verses about what happens to wicked people, for example. But, I digress.)
As much as I wish EVERYTHING would just go perfect in my life. That's not realistic. Jesus tells us in John 16:33 says "In this world, you will have trouble. But take heart! I have overcome the world.
We are Created to Create
I came to the realization today that we are all created to create.
The Good Book talks about us being made in God's image. He is the ultimate Creator. And all of us have been given His ability to create. Whether it's beautiful spreadsheets, heart-wrenching movies, or a welcoming home.
And that truth helped me answer my question: Am I writer if no one pays me to write? My answer is yes. Yes, I am writer. Even if, I never get paid another dime. Because that's what (I think) God created me to do.
Now, I just have to focus on getting all that good head knowledge to my heart and acting like it.
Question: What strategies have you used to overcome identity questions? Any advice is greatly appreciated.
Love, Simone