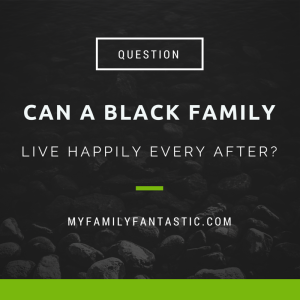 A few years ago, I had almost given up hope on black marriages and the idea of a black family. I witnessed two of my cousins go through tragic divorces.
And the only happy couples I knew were my parents and my best friend's parents. But, they were both in their late fifties.
Two things happened that changed my perspective.
First, I moved to Washington, D.C. and lived with the Ables family (I shared a bit about them a few weeks ago). Second, I celebrated New Year's Eve with my Ghanaian friend and learned about the strength of African families.
Living with the Ables gave me a front row seat to a thriving, loving, family. Bill, the husband, would call his wife on the way home from work to ask if she needed anything from the store. Linda, a former eye doctor that gave up her career to be a full-time mom, would coordinate her outings with friends around Bill's schedule.
But, it wasn't that they were trying to control each other.
It was that they genuinely loved one another, loved their boys, and did their best to support each other. Bill and Linda will celebrate 18 years of marriage in November.
And I think the keys to their success are: prayer and putting each other first. Since we're celebrating Father's Day this month, I asked Bill to share what he loves about being a dad and he said:
"The best part about being a dad for me is seeing how God has uniquely designed each one of my children, with their own distinct personalities. Yet, in each one, I can always find some characteristic or trait that reminds me of myself.

I have 4 boys ranging from 10 to 26 and I love the male bonding time when we throw the football, play basketball, box, wrestle, or just simply cuddle up together on the couch to watch a game.  I love it when they surprise me by repeating or applying something that I've told or taught them in the past but wasn't sure if they got the lesson.  I love nurturing and seeing their gifts develop."
Doesn't that just warm your heart?
The second event that changed my perspective was celebrating New Year's Eve at an African church. My Ghanaian-American friend invited me to her church and a New Year's breakfast.
And after the service, I found myself surrounded by 4 or 5 young married couples that looked just like me. They were talking about African courting traditions, marrying traditions, and traditions for new babies in their community. There was no drama, and everyone was just sitting there talking and laughing.
I soaked up every minute of that early morning. Because I was surrounded by young, married, black families, and just being around them gave me hope in my future.
Seven years later, I'm reaping the benefits being around people like the Ables. And I'm now surrounded by thriving black families at my church.
So, my answer is yes. Yes, black marriages and families can live happily ever after. So don't give up hope.
Black love still thrives. The Ables family and many other young families are proof…sometimes you just have to look for them.
Love, Simone