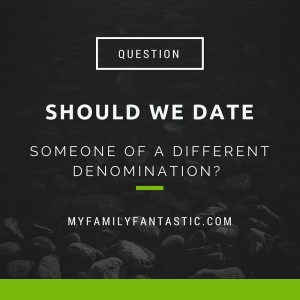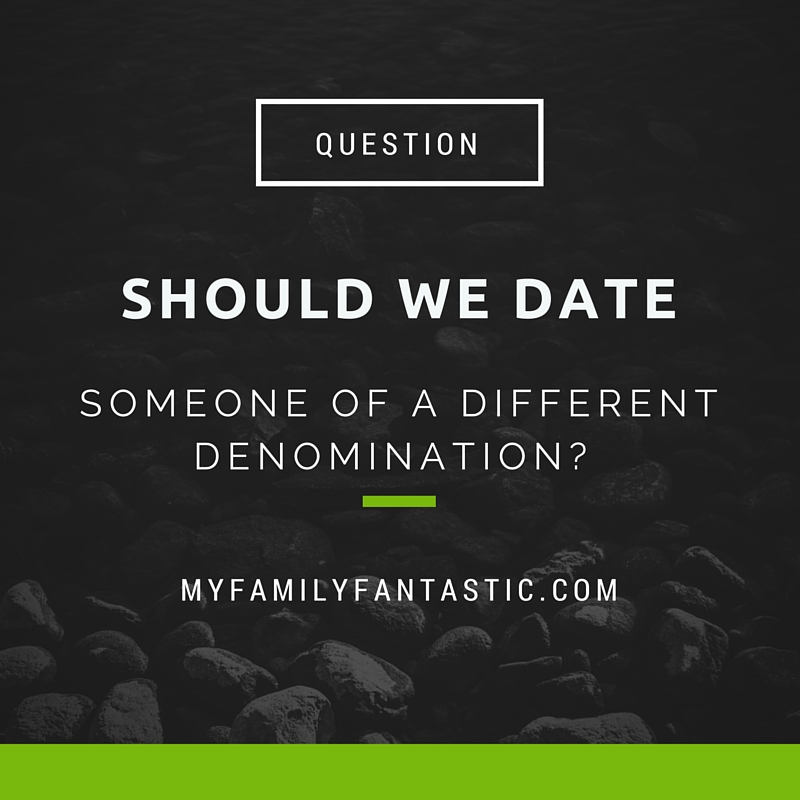 "If we have children, we're going to raise them Baptist, right?"
That's how a conversation began after church one Sunday. Morris and I  had been dating for a few months, and decided that we'd take our relationship to the next level by going to church together.
We went to his church at 8 AM and my church at 10 AM.  But our churches were different denominations.  And when Morris asked that question, I realized that I was a bit concerned about being a Baptist.
• Did they believe in the Holy Spirit?
• Would I have to wear a church suit and matching hat?
• What about freedom from legalism?
I didn't tell Morris this, but I was also harboring a bit of Baptist baggage.
My Baptist Baggage
You see, my granddad was a Baptist Pastor for 47 years. But my parents  left their Baptist church in the early 1980s, because they were becoming more charismatic. And when they started speaking in tongues, baptizing in Jesus' name, and casting out demons…the church they were attending was no longer a good fit for them.
There was a lot of emotional pain and hurt feelings when they left. I was only four. But I do remember the sense of losing my friends, and my parents' inability to explain why.
Fast forward 24 years, I'm dating this amazing man who is Baptist. I mean really really Baptist. (Morris went to a Baptist college, Baylor University, and he is a third-generation Baptist.)
And I…I only saw Baptist as legalistic folks that lived to find fault in the theology of others. I also thought everyone was a Sister Usher with white stockings, nurse's shoes, and white gloves just waiting to give me the stink eye if I so much as thought about nodding off in church.
I Thought Non-Denominationals Had it All Figured Out
You see, I was going to a non-denominational church and I was sure we had everything figured out. We had: extensive community outreach, a diverse congregation, a relaxed dress code, and, most importantly, we believed in the freedom of the Holy Spirit!
And, Morris was asking me…would I raise our children to be Baptist?
I said yes.
But internally, I was struggling with the issue of going back into a denomination for three reasons:
 being in a denomination just flies in the face of everything I believe about a unified body of believers.
how would we teach our children to pursue an authentic relationship with Christ?
And third,  he's Baptist and I'm non-denominational…what about being unequally yoked?
A Change in Perspective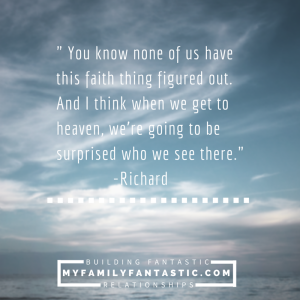 At lunch one day, a friend said something that changed my perspective. I was explaining that I was dating this guy. I really liked him, but I was worried that we weren't on the same page with our faith.
One of my friends, Richard, turns to me and says "You know, Simone, none of us have this faith thing all figured out. And I think when we get to heaven, we're going to be surprised who we see there."
Now, theoretically, I already knew this.
But, to hear that there are likely gaps in my faith and that I could stand to learn from other people/denominations was simply mind boggling.
From that moment on, I fully embraced the idea that a non-denominational church is NOT the standard.
Jesus is.
Caution: Men Don't Demonstrate Their Faith the Same
I talked to my prayer partner, Ann, and she explained that being equally yoked is not about outward "performance" i.e. speaking in tongues, sitting on a church pew, etc.
Men sometimes just aren't as demonstrative with their faith.
That's when I realized that me and Morris were equally yoked. Even though we didn't have the same understanding of Scripture, we were both equally committed to growing in our faith.
Moriss' Side of the Story
Morris told me last week that raising our future children Baptist was a "non-negotiable" for him. He explained that it is one thing for us to be different denominations, but he didn't want our children to grow up confused. It was also really important for him to have a black-male role model, and he just didn't find that at my church.
In hind sight, I realize that Morris was many steps ahead of me in planning for our future family and it's scary to think I could have derailed what God was trying to do in our lives.
The Importance of Hearing God
So, to answer the question "Should you date outside your denomination?"
Yes, if God says so.
The most important thing is learning to hear the voice of God. Go where he tells you to go, and do what he tells you to do. My faith has grown by leaps and bounds since I joined Morris' church, I've gained life-long friends and mentors, and my questions were answered.
For example, a few months after I joined, a series entitled "What Baptist Believe" started. Deep down, I think it was preached just for my benefit:-).
Dating Questions to Ask Yourself
When dating, I want to encourage you to ask these questions:
Do I trust him to hear from the Lord and obey?
Will I follow him?
Regardless of a different denomination, if a man hears the Lord and obeys…he will not steer you or your future family wrong. Second, we as women must be willing to follow whomever God has for us. There can only be one leader in a household, just like there is only one Captain of a ship.
And, if you cannot trust a man enough to follow him…he is probably not the one for you.
Okay, we've covered A LOT  of ground in this post. What are your thoughts on dating someone from a different denomination? 
Love, Simone
ps: Be back in two weeks! I plan to share how we met.