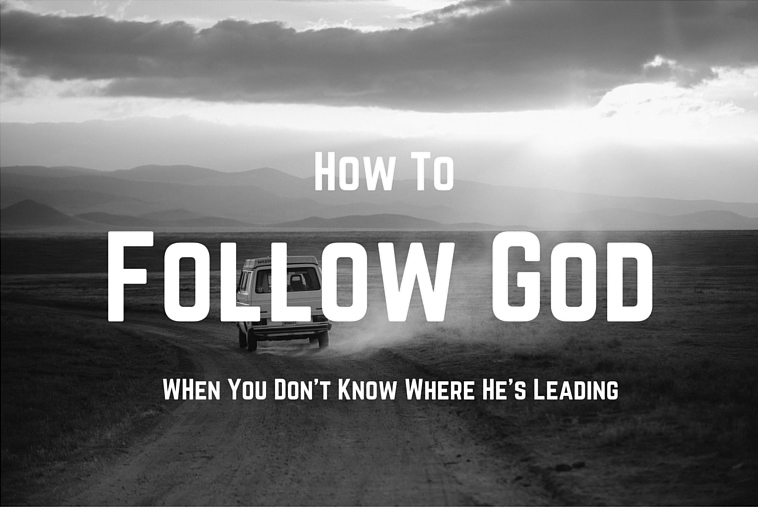 The past two months have been quite the adventure in how to follow God. At times, the path has been bright and filled with hope. But many times, the path has been dark and God's goodness has felt very far away.  I feel like all of us have these seasons:
where we're just frustrated with following the Lord
His answers don't seem to be come fast enough
and we wonder…is all this worth it?
The Gift of Memory
But it is. I know it is. Thank God for the gift of memory.  Because I can look back and see his continual faithfulness. And it is during the dark moments that we must:
dig in our heels
stand on God's word
and reject our emotions
I'll share a few details about my personal struggles (and victories) in my next newsletter. (You can subscribe here!) But, in the meantime, I wanted to share a few things I'm learning about how to follow God when you are not quite sure where he's leading.
I wrote a guest post for a friend's blog. While I was writing, He reminded me of some things. And I wanted to share…just in case I'm not alone in the wilderness:-).
Love, Simone
How To Follow God When You Don't Know Where He's Leading
"Faith is following God when you don't know where He's leading." That's what my pastor said a few weeks ago in church. And I needed this reminder because I was growing weary of this writing journey.
You see, I took a big leap of faith in the fall of 2014. I left my good government job to write full time. But things haven't been shaking out quite as I had planned.
By now, I thought I'd be a New York Times best-selling author.
By now, I thought I'd be sitting on Oprah's couch telling her all about my plans to help heal families.
By now, I thought I'd be making at least a few thousand dollars a month as a writer.
But none of that has happened.
Are We There Yet?
And I think it's because God is more interested in the journey than the destination. Take the children of Israel, for example. Once they left Egypt it took 40 years to get the Promised Land. 40 years?!
But even when they were wandering in the wilderness, God was proving His faithfulness to them over and over again. Here are three lessons I'm learning as I try to follow God—even when I don't know where He is leading: