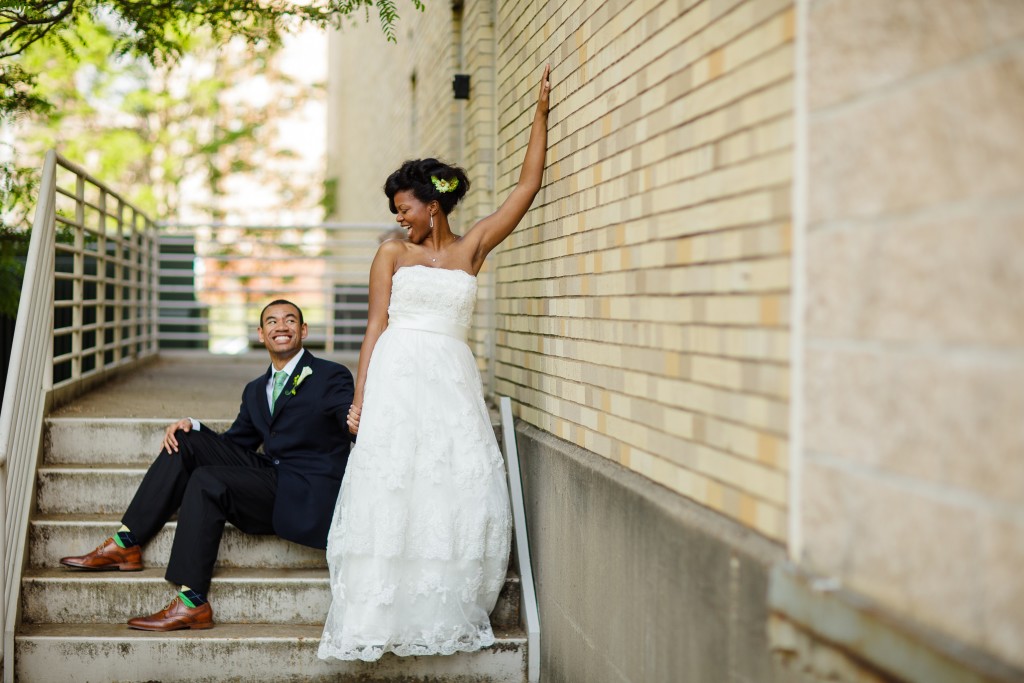 Last month, Morris and I celebrated our four year anniversary. When I walked down the aisle toward him four years ago, I was a little scared.
Scared that our love was a phase, it would fade away, and soon we'd settle into a life of mediocrity. But Mom Boyd, Morris' Mom, told me something that stuck with me:
"What you have now is nothing compared to what you'll have later."
I wasn't quite sure what she meant. But now that we are four years down the road, I FINALLY get it…
Love Grows with Time
What she was saying, is that your love will grow deeper with time. Sure, we were in love then. But what we have now is:
Understanding
And the history and experiences of time that knit two hearts together
He's my best friend, and I can't imagine what living one day longer than him would feel like.
Back then, I was also worried about being unequally yoked. All those questions have been answered on so many levels.
Every day before Morris leaves the house, he wraps his arms around me and says a prayer that the Lord will keep us safe and that I'll have a productive writing day. I'm excited to see what the Lord does as we continue to grow in Him and toward each other.
Leverage Each Other's Strengths
Over the past few years, we've traveled half way around the world together…
Train to Montreal
On the Train to Montreal
Montreal Monkey
Montreal: Mont Royal Cross
Peace & Fall in Montreal
Montreal at Fall
Our Engagement Day at the Portrait Gallery
Dark & Early at Tsukiji Tokyo Fish Market Circa 3:30 AM
Testing that Tuna
Kinkaku-ji The Golden Pavilion Kyoto, Japan
The Bamboo Forest Kyoto, Japan
That Bamboo is PRETTY Tall
Honeymooners in the Bamboo Forrest, Kyoto Japan
Osaka Castle
Honeymooners in Japan
Osaka, Japan Night Life
Landover Maryland USA Soccer Match
July 4th in D.C.
That Day He Made Me Declutter & Throw Away My Receipts from 2004
Deep in Thought…
Fenway Park for Morris' 30th B Day
Coronado Island, San Diego
Strategizing with the Scout Leader – Alexandria, VA
Headed to Ganvie Benin, West Africa
Ganvie
Ganvie – A Floating Village
This Handsome Fellow!
Us in the Mangroves, Benin
Bab's Dock Restaurant & Resort Cotonou, Benin (West Africa)
Benin West Africa: 40 Paces from the Ocean
Christmas in Waco, TX
A VERY Bad Hair Day and Our First Flight on a Private Jet
Central Park Fountain (Bethesda) NYC
Us at Hamilton on Broadway
The Boyd Familia
The Room Where It Happened: Me & Morris Met in THIS Class
Nashville Art Crawl with the Fam
Hispanicize: My 1st Social Media Conference – Miami
Bayside Miami
And we've learned some things about each other's strengths…
Morris has spidey senses when it comes to navigating a transit system in any language, and I have a pretty solid sense of direction above ground. He is the visionary, and I am the planner and implementer. He comes up with the grandiose dream and I figure out the 67 steps it'll take to get us there—this role is not to be confused with that of a Debbie Downer.
(By the way, we're getting ready to launch a new project on building local communities. So you'll be hearing directly from the boss of the Boyd household soon!)
Trouble Will Come, Learn to Manage
 We've also learned to navigate the highs and lows of life as they come. Like, when we missed our flight to Miami last month….
When we first got married, we'd get testy with each other. (We still do on occasion.) But we've learned to channel that frustration in helpful ways. Like:
Dragging each other to the gym
Creating To-Do Lists to Move Forward
Learning How to Comfort Each Other
And, most importantly, buying each other our favorite foods. Me: Cupcakes. Him: Fancy Cheese and Crackers.
 Have Fun. Every. Single. Day 
The business of life can suck the fun out of your soul.  So we dance, sing, and laugh a lot to combat that.
Whether it's in the kitchen or in the grocery store…find a way to steal a little fun out of life's mundane moments. It's a lesson we learned from an afternoon with our marriage mentors. They've been married 50 plus years and laugh every other minute…even if there's nothing funny to laugh about.
So we've taken that lesson from their playbook, and I hope you will too. Sometimes it can take a four year time span for a life lessons to sink in. But, hopefully, I'm not the only one that's a little slow on the uptake.
Love, Simone
Question:  What lessons have you learned over a period of time, that took a while for your to process?