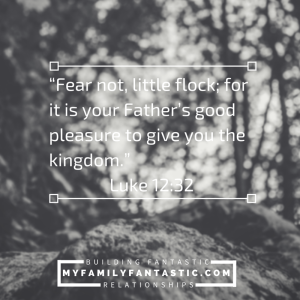 For me, it seems like every day is a fight in overcoming fear. No, I don't kick and scream. No, I don't cower in the corner.  But I do have a voice that pops up and asks accusatory questions, like:
Who do you think you are?
I wouldn't send that email if I were you?
Why are you even trying this?
Waaaay better people have come before you and failed.
The Voice of Fear
The thing is the voice of fear sounds like me, but it is actually the voice of our enemy. And, I believe it is one of his most effective tools to keep us captive and to torment our hearts.
Joyce Meyer says that "God wants us to walk by faith, and Satan wants us to walk by fear."   She says that fear begins with a thought and then creates an emotion that tries to rule us.
My 15-Year Fight
There is one area of my life where I've been letting fear rule for the past 15 years. I gave up wearing dresses, because I have these ugly marks on my legs from Lichen Planus.
The thing is everywhere I turn, someone is preaching, talking, or writing about fear. So, I'm guessing the Lord is trying to tell me something. But, I'm scared!
The Secret to Overcoming Fear
The thing is even when that fear is trying to grip us and take control. The Father is speaking and trying to tell us that He is with us, He loves us, and He only wants good for us.
Luke 12:32 says "Fear not, little flock; for it is your Father's good pleasure to give you the kingdom."
The secret to overcoming fear, as Michael Jr. says, is to "be still and listen for the Father's voice." And its something I'm striving to do.
Love, Simone
ps: Thanks for celebrating Father's Day with us this month! I really appreciate the comments and shares.
pps: See y'all in two weeks!