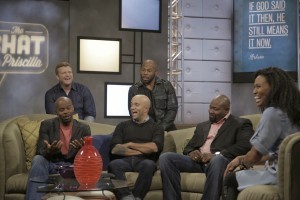 Earlier this year, I shared the first part of this video series by Priscilla Shirer. (She is one of my favorite Bible teachers.)
And in the second part of this series she discusses: the male ego, why guys don't lead, submission, and sex.
I love this video series, because we get to hear from God-fearing men (one of them single) on how to steward our relationships and help our men be all that God has called them to be.
The video is 38 minutes and some change. Here's the link: What Men Wish Women Knew (Part 2) . Just in case you are rushed for time.  Here's the time stamps for each topic.
The Men Speak
What's Up with the Male Ego? (3:45)
The Difference Between Being Needy and Needing A Man (6:15)
How to Submit, When Your Man Won't Lead? (10:00)
What Does Submission Mean for Singles? (13:30)
What IS Submission? (14:00)
How Should a Woman Encourage Her Man to Lead? (16:00)
Why Is Sex So Important? (22:45)
What One Single Christian Black Man Has to Say About Sex (30:00)
What Does It Men to a Man When Sex Is Infrequent? (31:30)
The 72-Hour Rule (33:15)
How Can You Make Sure Your Man is Fulfilled ? (34:15)
My Top Three Takeaways
Here's my top three takeaways from the video:
The male ego is fragile and we, as women, must take care not to emasculate the men we love. Because the way we talk can do serious damage to them emotionally.
Submission isn't something that just happens when we say 'I Do'. It starts way before that and while dating we have to ask ourselves 'will I follow this man?' Kim Cash Tate, another one of my favorite Bible teachers, wrote a great post on submission for Desiring God.
Sex (and its frequency) is muy importante.
What was your number one takeaway?